Three-in-One Video Recorder!
The new SR-DVM600 is a multi-deck video recorder/player that incorporates the all-digital formats of MiniDV and DVD with the added advantage of a 40GB hard disk drive. The compact SR-DVM600 also offers a number of extremely efficient editing and dubbing functions such as six-way recording. Whether used for media duplication or archiving of both analog and digital footage, this product is the ideal choice for professional applications seeking optimum performance and value.
Simple operation – anyone can use it!
The SR-DVM600 will produce a professional, high-quality DVD with smooth video edits, chaptering, and menu backgrounds regardless of the original video source material. What's more, the SR-DVM600 simplifies DVD disc creation of finished video material in a highly professional manner without the necessity of complex PC or editing skills. Virtually any source material can be quickly dubbed to the built in HDD, and a finished, polished DVD can be created in minutes.
Various Recording/Playback Formats
The SR-DVM600 records and plays various DV, DVD and CD discs as well as transferring them to and from the Hard Disk Drive (Please refer to the specifications for further details). Compatible Video Sources DV IN: Digital hardware (NLE system with DV out, player/recorder with DV out). Y/C or Composite IN: Analog hardware (VHS/S-VHS deck, VCR with YC or composite out). MiniDV Cassettes.
Multi-format Capability (DVD)
The SR-DVM600 is capable of recording and playing back different DVD formats. These include recording & playback of DVD-R, DVD-RW, and DVD-RAM as well as playback of +R or +RW.
Auto Error Correction System (MiniDV)
Reduces annoying block noise that may occur when playing back DV and DVCAM™ tapes.
DVCAM™ Playback (MiniDV)
The SR-DVM600's MiniDV deck is capable of playing back DVCAM™ format tapes recorded on small DVCAM cassettes. Recordings can be dubbed to either DVD or HDD, preserving the high quality of digital video and professional DV sources.
IEEE 1394 Interface
The standard IEEE 1394 bus interface pro-vides direct connection to NLE systems or to a PC for downloading, editing and archiving.
External Wired Remote Terminal
For extra convenience, connect up an external wire remote controlled to enable additional controls such as playlist/title direct selection for HDD or DVD, and direct playback speed selection.
Auto Repeat Playback Disc Authoring
The Auto Repeat disc authoring function is very convenient when constant or repeated video play back material is required such as for digital signage or storefront demos.
Last Function Memory and Mode Lock
The SR-DVM600 is fully equipped with additional video editing functions designed to improve efficiency in the professional production environment. For example, Last Function Memory stores the last function performed in the memory and always resumes operation from that point while Mode Lock helps to protect against unintentional erasure of recordings.
NOTE : Functions may vary depending on the NLE software used.
Bit-rate Optimizer for HDD to DVD Recording
This system analyzes the content as it is recorded on the HDD and then assigns optimum bit rates – low for simple scenes, high for complex scenes – to ensure optimum picture quality while calculating disc capacity.
Selectable Recording Times and Data Rates
Depending on the application, the most appropriate recording time and data rate can be selected. Copying of synchronized-edited material from HDD to DVD is normally performed in real time (1x). However, the SR-DVM600 can create copies at eight times normal speed (8x)*. This means that by copying the synchronized-edited recording first to the DVD-R, then back to the HDD, and finally dubbing it at normal speed, reproduction of DVD discs can be performed up to eight times faster.
*When copied to DVD-R at the maximum recording speed: 64 times in FR480 mode.
18 Pre-installed Background Patterns (DVD)
For added convenience, the SR-DVM600 provides 18 pre-installed background patterns to add originality to your DVD video production.
Extended Recording with High Resolution Pictures (DVD-RAM/DVD-RW/DVD-R VR mode)
Horizontal resolution in the LP (4-hour) mode of a conventional DVD recorder is approximately 250 lines (½ D1) but the SR-DVM600 provides more than 350 lines (2/3 D1). Content that is longer than 2 hours can be recorded on a disc without any loss in picture quality.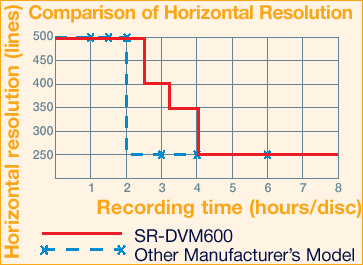 Super MPEG Processors
Pre-processor (HDD/DVD)
When recording from analog sources, a noise reduction process is applied before MPEG-2 encoding to guarantee superior quality images.
Post-processor (HDD/DVD)
Several noise reduction features work together to provide the best possible image. Block noise reduction suppresses "block noise" caused by MPEG-2 compression, Color DigiPure reduces 3D color noise, and the "Hadamard" noise reduction eliminates "mosquito noise" from any DVD. Editing with the Hard Disk Drive
Play List Editing
Video recorded on the hard disk drive can be easily divided into different sections via the play list editing screen. Convenient non-linear editing can also be performed by adding video clips to the play list, inserting in and out points within desired scenes while previewing the video, and shuffling scenes by arranging the play list in the preferred order. From the chapter setup screen, the desired chapter number can be set while previewing the thumbnails of each scene, and scene editing is possible using a play list created from these chapter numbers.
Easy Program Dubbing
Using the index navigation screen and simply selecting programs in the desired order enables easy program-based editing & dubbing when dubbing between DVD and HDD.
Live Memory Playback Function
To increase overall efficiency and allow checking of material when recording a master video onto the hard disk drive, Live Memory Playback Function allows playback of recorded material from any desired point. This function can also be used while recording onto a DVD-RAM disc.
Synchronized Editing System for Direct Dubbing from HDD to DVD
Using the Synchronized Editing System function, video data that has been edited on the hard disk of the SR-DVM600 can be transferred digitally to a disc in the DVD recorder, helping to preserve picture quality and ensuring that DVD playback will be seamless with no visible edit points. This is made possible by the effective use of the intra-coded picture (I), predictive-coded picture (P), and bi-directionally predictive-coded picture (B) frame information within each Group of Pictures (GOP) during editing operations. The I and P frames contain information that determines picture quality and by maintaining their position within the GOP, it is possible to minimize degradation when dubbing so there are no "freeze" pauses at edit points during DVD playback for a smooth and natural, high-quality DVD recording.
40GB Hard Disk Drive
The SR-DVM600 also features a hard disk drive with 40GB capacity to provide temporary footage storage within the deck. Applications for the SR-DVM600US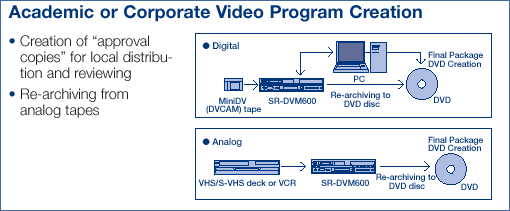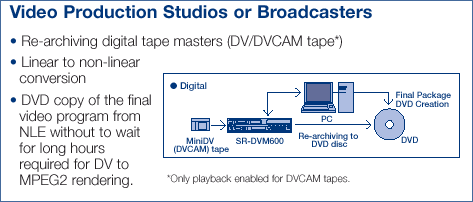 Call toll free to order 866-357-4321
or 240-235-0602
or fax 240-359-4090
or e-mail
We accept Visa, MasterCard, American Express, Discover
Leasing available